James Franco is a man of many trades, his latest being dance music maven alongside unlikely collaborator Kalup Linzy, a video artist drag queen R&B singer. Most of Linzy's work has been in the art world — his avant-garde opera opens next month at the San Francisco Museum of Modern Art — but he's joined his famous friend in the pop-culture sphere with their recently released experimental, bass-heavy 'Turn It Up' EP.
According to Linzy, Franco approached him a few years ago after seeing him speak at the prestigious Art Basel Festival in Miami. The two became friends, sharing a mutual respect for each other's work.
"There's something different going on with him; he's not just in the movie world," Linzy tells Spinner of his A-list pal and collaborator. "What's funny is that he was painting before his acting career took off and I was acting before my art career took off."
Over the period of a year, the pair co-wrote and recorded the disc together. Initially, Linzy assumed the former 'Freaks and Geeks' star would simply add some spoken-word elements to the mix but Franco had other plans, pushing to full-on sing on the release, which was co-produced by DJ/Rupture, as well as offer his own musical direction.
"He's so talented, he might have been able to make the record on his own," says Linzy, noting there was such a flow of output "we could even have released a double-album, but he's so busy with all his movies."
"The EP definitely went in an electronic direction," he continues. "But I see it rooted in the tradition of R&B but with dubstep and also some Motown sounds — some [tracks] can be played in the club, but there are certain textures that are also meant to be listened to with headphones. I hope with that this new record will be added to the conversation of contemporary music, but as well within the conversation of art."
The video for their current single, 'Rising' — which features lo-fi video shot by Franco from the set of General Hospital,' where the Hollywood star has a recurring role as vagabond artist Franco, as well as footage of Linzy's green screen work referencing Picasso and Basquiat — should certainly help drum up discussion. It might also tip off a few more people to the fact that Linzy, himself, did a stint on ABC's daytime soap.
Watch Kalup Linzy and James Franco's 'Rising' Video
It was Franco who pitched him to the producers at 'General Hospital,' who eventually brought Linzy on to play Franco's pal Kalup Ishmael, a character that mirrors his own flamboyant art persona.
"It was a very comfortable experience," says Linzy. "I saw they had a board set up with all my pictures and past performances with James [at various society events]. It was inspiring to see that they had really researched and integrated our lives together into the show. My character's story line ran for four episodes."
Appearing on 'General Hospital' was actually a logical career move for the artist as he's explored gender and family issues through his own self-produced soap operas. Linzy points to his childhood in Florida where he watched daytime TV staples such as 'Guiding Light' with his grandmother for introducing him to the medium.
"By the time I got to junior high, I caught on to the storylines and started following the characters," says Linzy. "They started influencing my creative thinking and I started making these soap operas as a teenager with my cousin."
"My great grandmother used to listen to 'Guiding Light' on the radio in the 1930s," he adds. "So that's where it began."
The Original House Gangsta DJ Sneak will be returning Coda in Toronto for the nth instalment of his birthday beats tradition on November 8th.  While his Soundcloud page lists him in Toronto, I'm confused by the statement as I was told he wasn't able to play at Digital Dreams in the summer due to border issues.  Huh?? Doesn't exactly make sense to me but I'm glad he'll be playing her regardless.
Other old school heavyweights holding down the fort and raising the cakes, will be Doc Martin whom I'm pretty sure I saw at a Phryll party at the Koolhaus in '98, and there may or may not have been a spinning ball that you could climb into for a ride.
Love this track name.  Sums up pretty much how I feel, although, I'd be lying if I wrote I haven't considered launching my own branded Jheri Curl line.
I thought it was pretty damn cool when I got to interview Matisse and Jr. Flow for Spinner way back in 2010 for AOL Spinner at the time and other interactions right here on Shipwrckd back in 2008!  I knew they were crazy talented artists creating an innovative 'live cover band' slash mashup performance concept at the time, but I never expected them to blow up the way they have. Signings to Dim Mak and long chains of star power events and partnerships with the likes of Hennessy have helped pushed them over the edge, so there you have it.
Courtesy of Keys N Krates 
Keys N Krates are DMC World Champ DJ Junior Flow (Jr-Flo), drummer Adam Tune and soul singer Matisse. Together, they create what they call the ultimate in "live remixing" experiences, with their Top 40 mash-ups that sample liberally from the '80s and '90s. But more recently, they've actually been creating their own tracks and samples, too. No flash in the pan, Keys N Krates have been globally recognized for their unique swagger. Here, we talk to the Toronto act about why they don't worry about lugging around tons of gear, how Canadian rapper Shad is keeping the "boom-bap alive" and why tUnE-yArDs is worthy of praise. 
How do you work together as a band?
Jr-Flo: We use just turntables, keys and drums as our main instruments. Our songs start with a sample that we find. It can be from any type of music, it can be jazz, rock, hip-hop, but not limited to any of those. We build a track around that sample utilizing the instruments that we play in the band. When we do live remixing, we usually take a hook or a line from a song. From that one hook, we'll create our own version to it. That's what live remixing is all about, and we perform those live on the fly. Recently, we've been making our own samples and original tracks. We'll still use samples but it's not as recognizable. Some of them will be very obscure and turn into our own.
Get a chance to see them with Just Blaze on November 20th.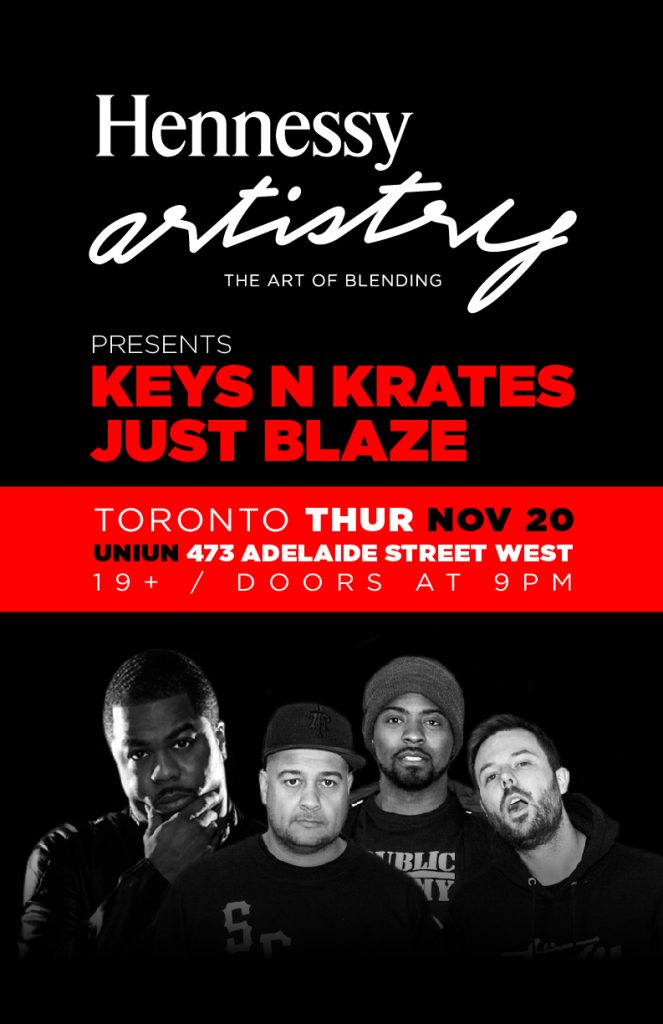 Did you know that according to UNICEF pot is more accessible to Canadian teens and more popular than cigarettes? Why is one legal and not the other?
Does your politician have a drug policy abuse problem? You can help.
Drug policy abuse is the intentional pursuit or promotion of a drug policy that has been shown to cause harm. If your politician suffers from this disorder, it's time you had "the talk."  A message from the Canadian Drug Policy Coalition.
Wow, thanks Emily.
I'm flattered that you think I am the owner of Canada's largest newspaper (The Toronto Star) and their digital properties, but sadly, I will have to decline, as enticing as the offer sounds. Perhaps do a bit more research before making your next offer!
 Ok, so the elections are over and if you live in Toronto or pay attention to our politics, you should know that the ailing Rob Ford's brother Doug is not our mayor-elect.
During the months leading up to the election, I had been lurking in the notorious "I Support Rob Ford in his professional life, and Forgive him in his personal life" Facebook group for months, without saying much (aside from the time when I mocked offence at the term 'retard' claiming to have a child with Down's Syndrome, causing a mini-brouhaha in the forum).
However, a few weeks leading up to election day, Ford had made a massive faux pas during a debate by claiming some of his best friends were Jews when asked to explain one of his brother's infamous hate speech tirades.  Ford Nation took to his defence, attempting to normalize anti-semitism of Dear Leader with the brilliant question above.  I could not hold myself back and figured there was no more sense in keeping my cover. And so I spoke out.  And this is what happened.
I've never used the FB "Ask a question" function, but I don't think it was used properly in the situation above….
Whether you're a fan of Steak Queen or Scaramouche, Torontonians and their smartphones are hungry for restaurant apps, and a host of developers are well aware of that. With India's multimillion-dollar restaurant-finding app Zomato just launching in town, here are a few homegrown options for finding a bite and maybe getting a little extra service.
Cost: Free, comes with $10 promotional credit
Locations in use: 40 plus
What it does: Eliminates the hassle of waiting for the bill by having it go straight to a diner's phone. After your meal, you receive a push notification on your phone that lets you complete a private review of your experience that only the manager has access to.
Main competitors: Cover, OpenTable
Competitive edge: A focus on payment as a hospitality experience, with carefully curated restaurants. Also, multiple party-members can easily check in and split the bill.
Cost: Free, comes with $1-$2 in promotional credit at most locations
Locations in use: 45 plus
What it does: With a focus on quick-service cafés and lunch spots around Toronto. SmoothPay lets customers buy meals through a mobile wallet system on your smartphone that connects to your credit card. SmoothPay also services frequent use customers with customized loyalty rewards programs.
Main competitors: PayPal mobile
Locations in use: Still in its infancy, Maegan offers only 15 in Toronto and Kitchener-Waterloo area, with many more promised.
What it does: Diners frustrated with slow service don't need to flag down the waiter to place their order. Instead, they can browse the menu and order directly from their phones, as well as pay. The app also lets you order food to your home or for pickup.
Main competitors: JustEat, Orderit.ca
The edge: Word nerds will love it. Maegan's name comes from old English and means main dish, or mighty power of your hands. The app also allows you to search through dietary filters to find the right place to meet your vegan, gluten-free, lactose-intolerant needs.
TORONTO LIFE BEST RESTAURANTS
Restaurants featured: 450 plus
What it does: You won't find every restaurant in Toronto, but every one listed has been positively reviewed by the magazine's writers.
Main competitors: Yelp, Urbanspoon
The edge: While Yelp is great for crowd-sourced opinions, it doesn't offer recommendations from professional critics.
BLOGTO'S TORONTO FOOD TRUCKS
Food trucks featured: close to 100
What it does: It's not always easy to find your favourite food truck. This app lets the user connect with food trucks in the GTA by displaying their updated locations, pictures and profiles.
Main competitors: Eat Street, Street Food App
The edge: BlogTO has a considerable following in the city.
Shepard Fairey is a designer, political activist and artist best known in the last decade for creating the iconic "Hope" poster for Barack Obama's 2008 presidential campaign.
In the late 1980s, he became an underground sensation, traveling across America with his cryptic "Andre the Giant Has a Posse" stencils, and "Obey" imagery lifted from John Carpenter's cult sci-fi film They Live.
Fairey, 44, was in Toronto this week to unveil two murals. It's part of a tour sponsored by Hennessy cognac, for which he designed a limited-edition bottle. One mural is located in an alley on Queen St. W. beside the club Tattoo (567 Queen St. W.), where he also performed a DJ set Thursday night. The other is on the back of the Gladstone Hotel(1214 Queen St. W.). Here are a few things we learned about him.
He embraces social media, but craves the human connection
It used to be that as a street artist, the only way to make an impact was through volume and visibility. "You had to be incredibly prolific," Fairey says. Hence the rampant tagging, stickers and stencils you might see in the city.
Times have changed with blogging and social networks, where artists get hooked on the validation of fans "liking" their art. But while Fairey uses the Internet to promote his work, his favourite part about making street art are the encounters with the passersby. "I'll hear them after, saying 'holy crap, I can't believe this just popped up! What's the story here?' The visceral impact is completely different from the buffer that social media interface creates."
He owes his career partly to Kinko's
Fairey took the Kinko's slogan "Your Copy Store" quite literally. He would go in late at night and take over the floors, making it his studio. The 24-hour copy shop also was partly responsible for his red, black and white motif. He managed to MacGyver colour photocopiers with a paperclip to give him free product in those colours. His limited budget also forced him to focus on a style, which essentially became an advantage.
He fears Led Zeppelin fans the most
Fairey is working on posters for The Rolling Stones' upcoming South America tour, and the band Interpol. But the most memorable rock project was possible when Led Zeppelin approached him to design album packages. "They have a much bigger audience than I do. With that comes the danger of the person who has been a fan for 40 years who says, 'That's not right for Led Zeppelin.' It's a delicate situation. I think I'd most likely be killed by a sycophantic fan of theirs."
He succeeds through relentless trial and error
Fairey doesn't tend to dream up an amazing vision, getting up by candlelight, putting on his beret and painting in his sleep. On the contrary, "it's blue collar work ethic. Try this, try this, doesn't work, doesn't work, ah this works. The same thing applies to my DJing and learning song combinations."
He operates a successful clothing line
Fairey is creative director of the multi-million-dollar Obey Clothing line where he has a hands-on involvement with all the visual imagery used on t-shirts and apparel. He says that mass-producing defiant shirts was always part of his plan but the street art took off much faster, allowing him to leverage his reputation when the timing was right.
"I've always looked at fashion as something potentially awfully shallow, but something that everyone is concerned with. It can be a dark impulse or a creative impulse. It can go either way, but it should be channeled in the best direction possible," he says.
ACTRA group rate background guys have all the fun. This was actually a hilarious commercial to be on.  They told me my reaction was priceless, and it made the final cut! I'm wondering if this demands an upgrade. Hmmmm….
31/10/2014 UPDATE: I was actually close to an upgrade (yes!) but I didn't meet all the qualifications (boooo!)  At least the ACTRA stewards were cheery about it and got back to me lightning fast!  Who doesn't love a good puppy vid, right? #YourUnionAtWork
10 Ways To Spot An Asian From Asia VS An American-Born Asian
Asians can be from Asia. Asians can also be from America or any other Western country that their families emigrated to several generations ago. Besides an accent, can you tell the difference? #thereisadifference #westernasianposted on Oct. 28, 2014, at 3:14 a.m.
1.

 At the beach

Asian-Americans: They tan, swim, do a variety of water sports and are not afraid to come out during high-sun.
Asians from Asia: can easily be mistaken for a Mexican Lucha Libre wrestler. Due to their fear of the sun, they come out at dusk and use umbrellas as an extra safety precaution. If they do go in the water— it's typically at most waist length.
2.

 Matching Couples Outfits

See an Asian couple with matching outfits?

Asians from Asia: match outfits with their significant other in any public setting for any occasion
Asian-Americans: only appropriate if you're a team on Amazing Race or going to a bar/event to support the same sports team.
3.

 Vaccine Scars

Asians from Asia typically have the Fob Dot located on their upper right arm.
4.

 Travel Snacks Packed in their Suitcase on Vacation

Western Asians and Asians from Asia pack drastically different emergency travel snacks.

Asian-American Travel Snacks: Granola Bars, Potato Chips, Trail Mix, Protein Bar or Pocky/Hello Panda cookies as an homage to their Asian heritage
Asians from Asia Travel Snacks: Ramen, Hot Tea Bags, Anything that you can add hot water to create an instant meal just in case their complimentary meal on their pre-paid tour tastes like garbage
5.

 Asian Men's Hairstyles

Like fashion, cultural differences also exist in hairstyles.

If you see an Asian guy over 18 with a razor-shag + side-swooped bangs reminiscent of Justin Bieber circa "Never Say Never", he's most likely to be an Asian from Asia.
Typical Asian-American Men's Hairstyles for 18+: the fade, the fauxhawk, the buzzcut, slicked-back waves or the classic short-hairstyle
6.

 Recreational Sports

Asians from Asia and Asian-Americans share many of the same recreational pastimes (e.g., karaoke, grabbing bubble tea). However— sports is another issue..

Asians from Asia: enjoy playing popular British non-contact sports such as Badminton, Cricket and Ping Pong.
Asian-Americans: will only play Badminton/Cricket/Ping Poing with their 10-year old niece— being bored at a family backyard BBQ while holding a beer in their left hand.
For the most part, you can find them recreationally playing most contact sports like basketball, football, tennis or soccer.
7.

 Men's Bags

Even Asian men's accessories vary from east and west…

Typical Asian-American Men's Bags: Bookbag, Messenger Bag, Duffle/gym bag, Breifcase, Laptop bag issued by employer, Totes (to only be used for the beach or grocery shopping)
Asians from Asia: Totes (not to be used for the beach or grocery shopping), small satchels, big short-handle bags or clutches that can be mistaken for a woman's purse.
8.

 Asian Women's Cell Phone Covers

Is her phone cover bedazzled/bejeweled and she's over the age of 12? She's most likely an Asian from Asia.
9.

 Taking Photos

In general, Asians of all backgrounds love taking photos. But Asians from Asia can be easily identified by their strong tendency to take obtrusive photos with no regard to their surroundings. For example:

Whipping out their selfie-stick in the middle of a busy street during rush hour or at a crowded restaurant
Or awkwardly squatting low or in fetal-like position with their DSLR
10.

 Calling Out Racism

Are you using the words "Oriental" and "FOB" to refer to Asians?
If so, you have likely offended most Asian-Americans and called out as a racist on Twitter.

Asian-Americans immediately let others know when something is racist, culturally appropriated and/or offensive to the Asian community via social media. Discourse amongst Asians from all backgrounds ensue if it's actually racist.
Notably, Asian-Americans are also more likely to call out if something is racist towards other races as well.
Now— let the discourse begin…